Ranganna
Ghlac páistí ó ranganna sinsearacha Ghaelscoil Thromaire páirt i gclár teilifíse Uiscenauts le TG4 le déanaí ina raibh siad i gcomórtais ar uisce in aghaidh Ghaelscoil Uí Earcáin as Baile Átha Cliath. Idir Bádóireacht, snámh agus imeachtaí spóirt san uisce bhain na páistí an-spraoi as an lae agus ar ndóigh bhí sé go deas an tróphaí a thabhairt ar ais abhaile linn ag deireadh an lae. Craoilfar an clár theilifíse ar TG4 san athbhliain, agus cuirfimid ar an eolas sibh nuair a bheidh an clár ar siúl.
The children from 6th class took part recently in Uiscenauts, where we were up against Gaelscoil Uí Earcáin from Dublin in a variety of water sports involving rafting, kayaking and swimming in the water park complex in Athlone. We had a great day out and it was a bonus to bring home a trophy as a memento of a very memorable day.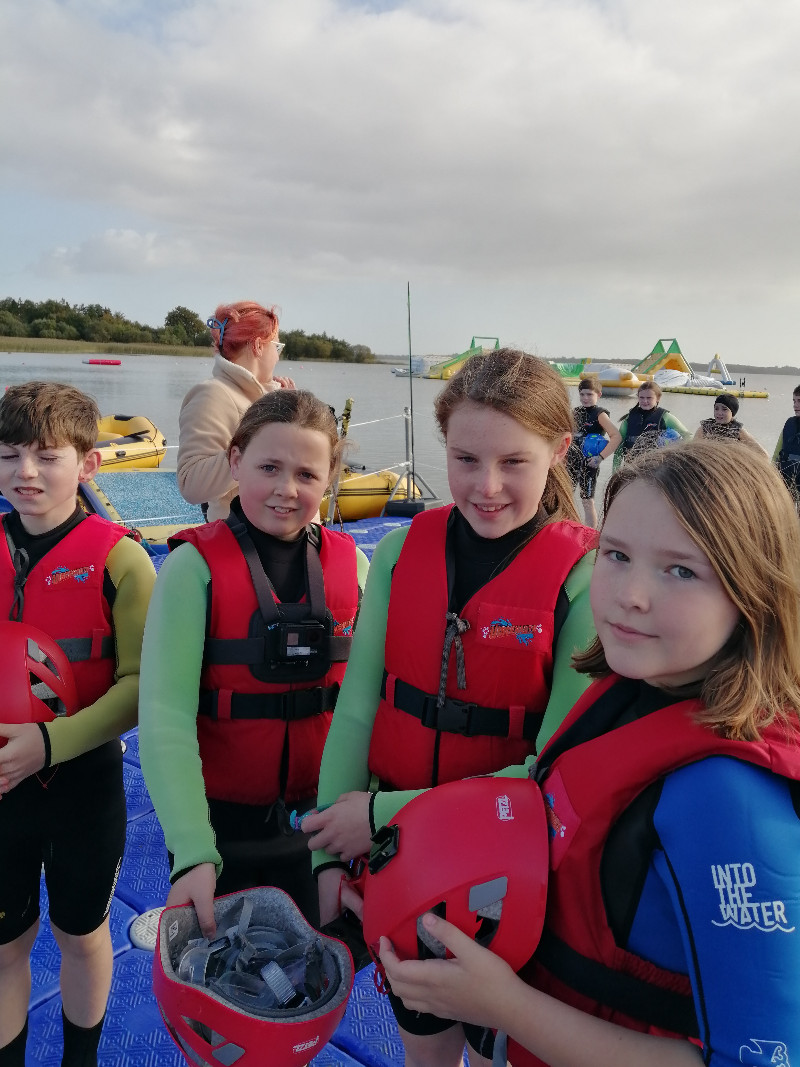 D'imir foireann peile sa chluiche leath –cheannais in aghaidh Gaelscoil Slí Dála ar an Mháirt seo caite in bPortlaoise. Cé nach raibh an lá againn, bhain na páistí an-sult as an lae agus comhgháirdeas le foireann Gaelscoil Slí Dála a d'imigh ar aghaidh chun an cluiche ceannais a bhuachaint ar an Déardaoin i pPáirc Ui Mhórdha.
The children of Rang 3-6 took part in the semi-finals of the Co. Laois Cumman na mBunscol Shield in O'Moore Park Centre of Excellence on Tuesday 8th of November. Although it wasn't to be our day the children enjoyed the day and our congratulations go to Gaelscol Slí Dála who went on to win the final on the Thursday.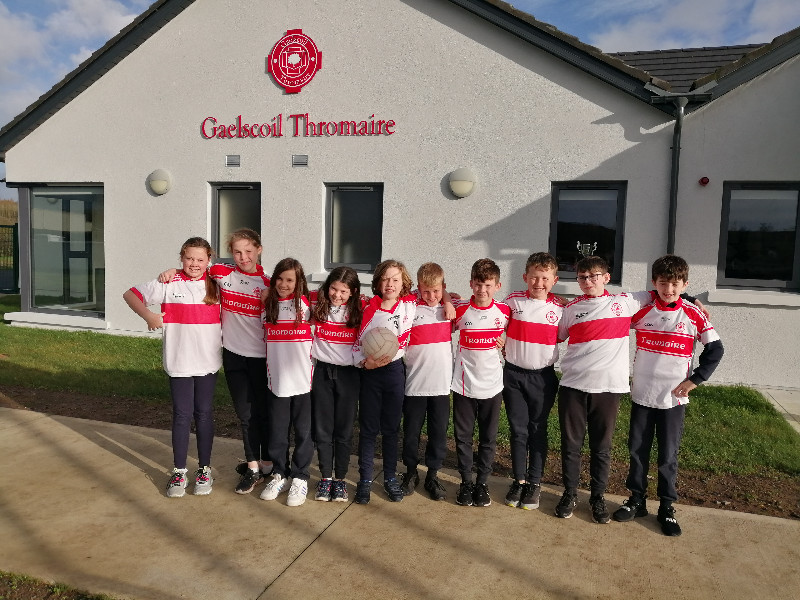 Corn Peile / All Ireland Football Cup
Tháinig Laura Nic Mheachair ó foireann Co. Laoise cuairt chuig an scoil Dé hAoine seo caite chun corn peile na tíre a thaispeáint do na daltaí. Is cúis mór inspráide do na peileadóirí ar fad é seo a fheiceáil agus cuireann sé peil na gcailíní in aithint do gach duine.
Laura-Marie Maher of the Laois Ladies Championship Football team visited the school recently with the All Ireland Ladies Football trophy. This was a great inspiration to all of the footballers in the school and highlights the growing importance of the Ladies GAA competitions throughout the country.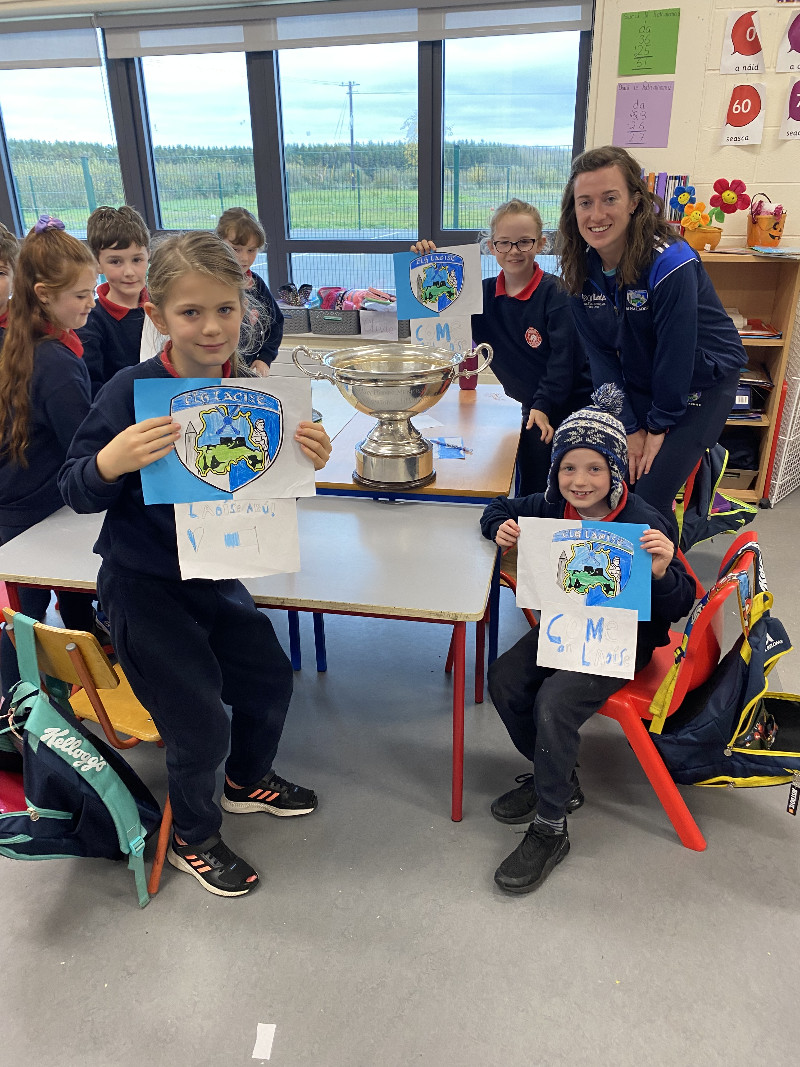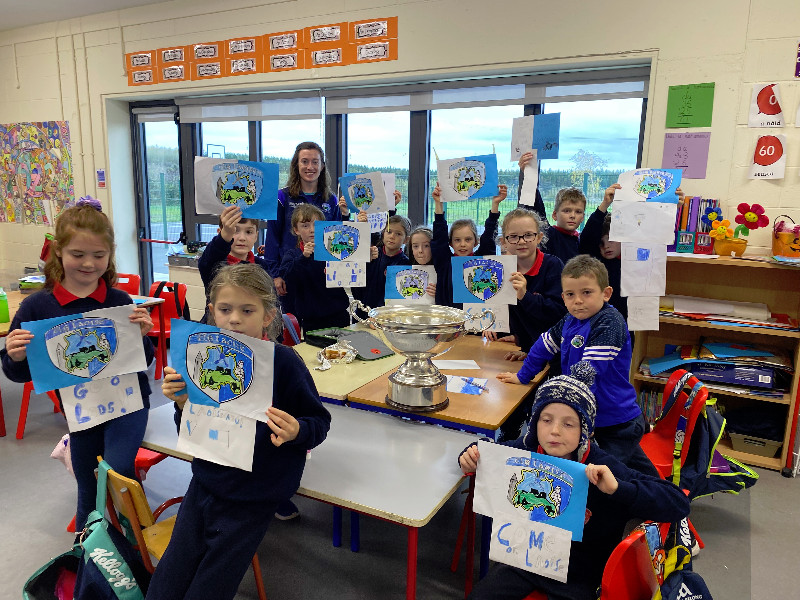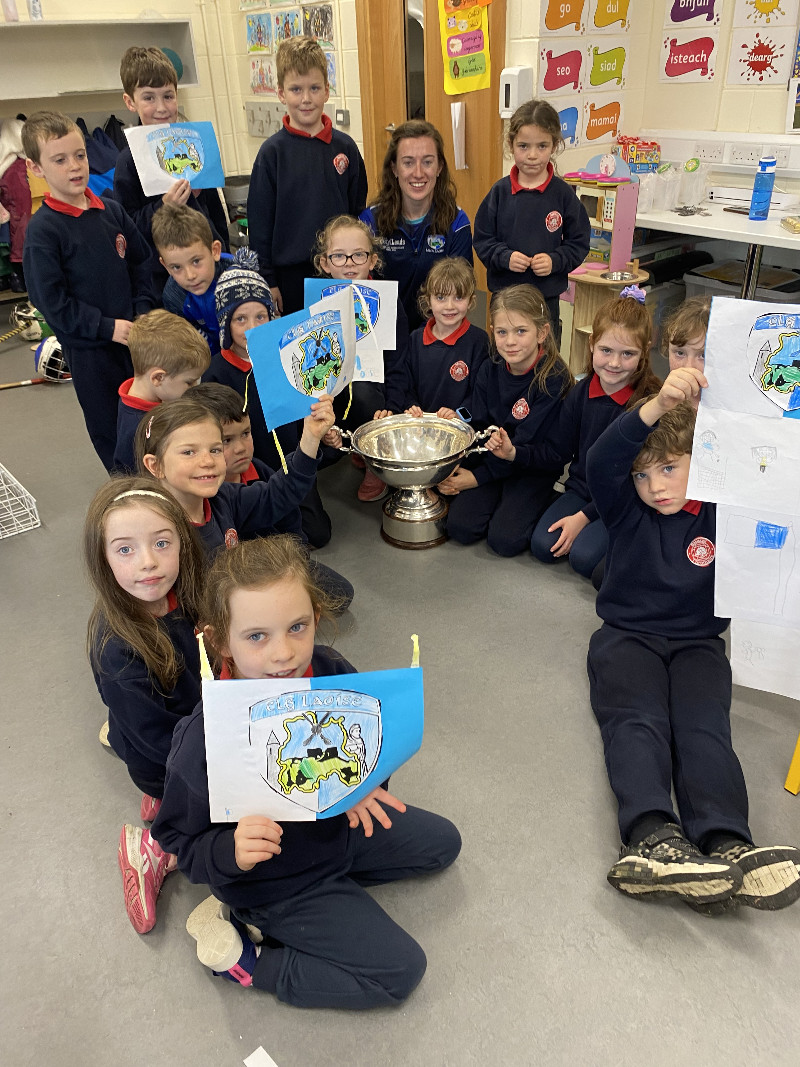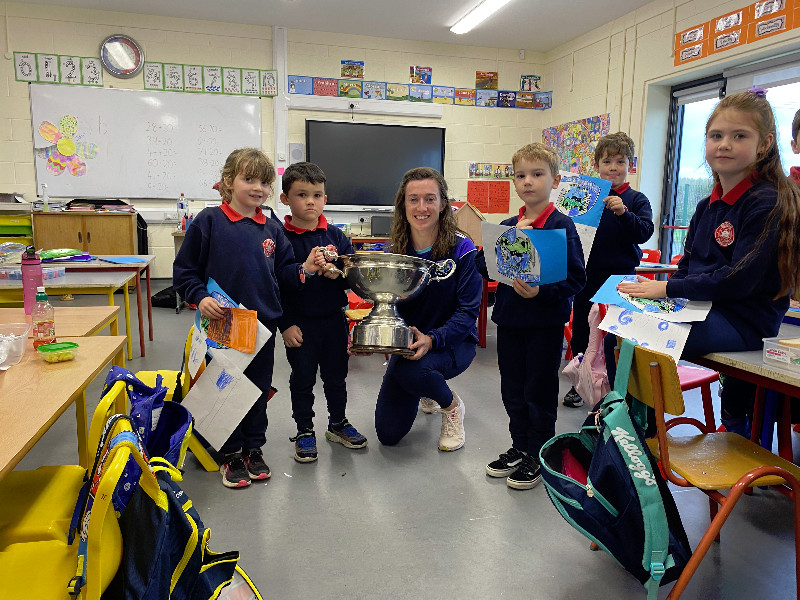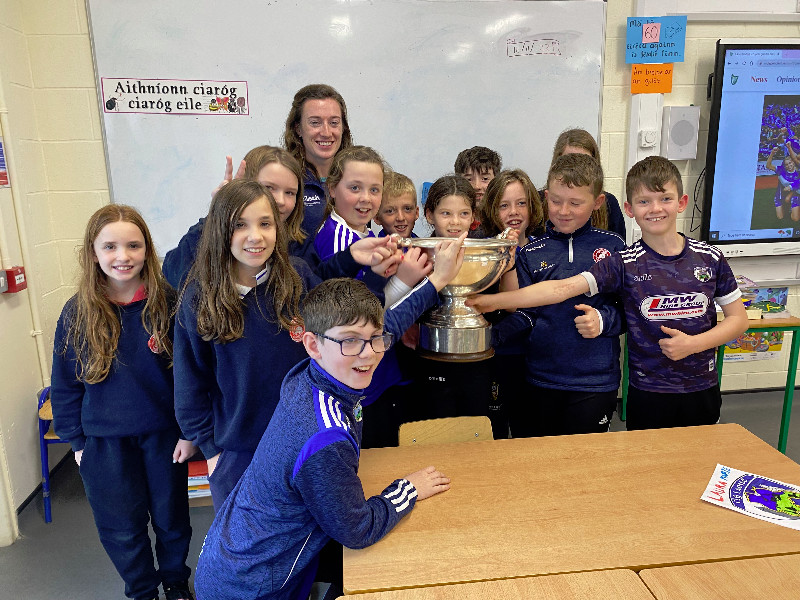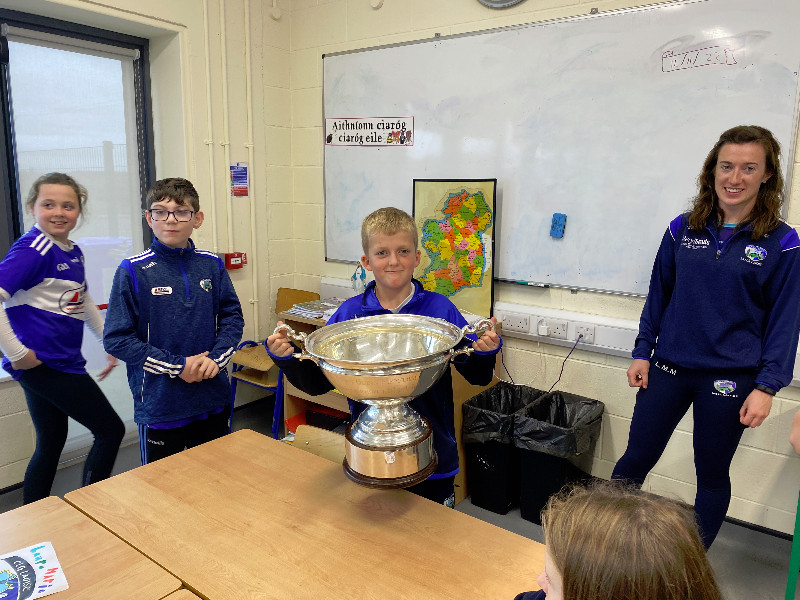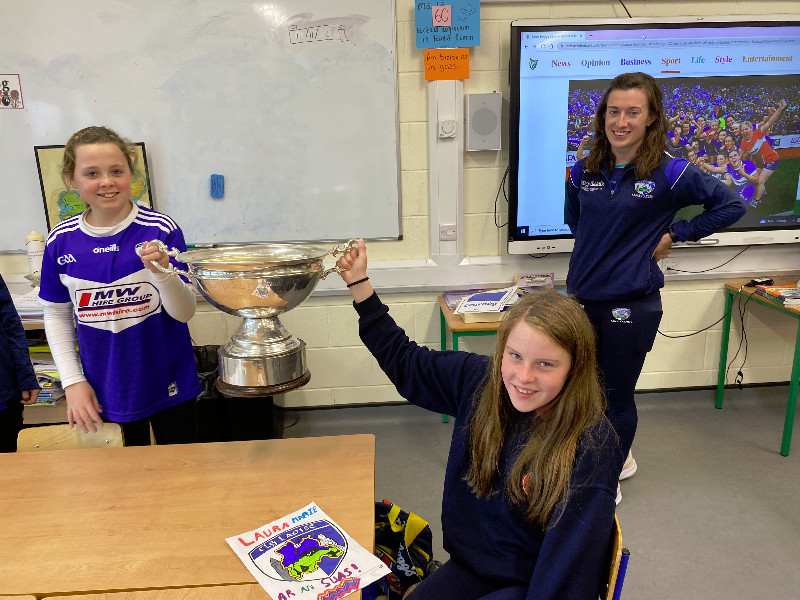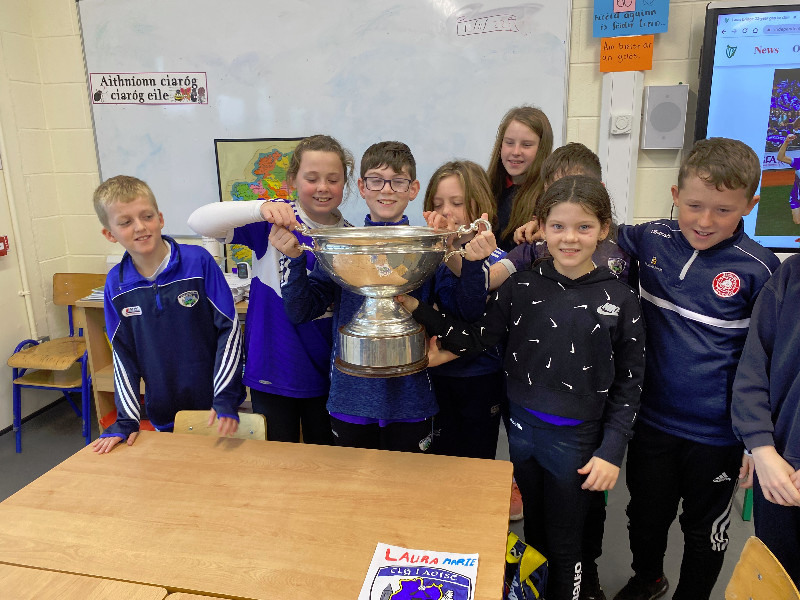 Duai Ealaín / Lions Club Art Competition
Comhghairdeas do Frankie Nic Coistealbha agus Réaltin Ní Chiardubháin a bhuaigh duais ealaíne a reachtaigh an Lions Cub chun postéir Síochána a dhearbhuí le déanai. Bronnadh gradaim ar na cailíní i halla an bhaile I bPort Laoise ar an Aoine.
Congratulations to Frankie Costello and Réaltin Kirwan who were presented with awards for their 'Poster for Peace', an Art Competition organised by Portlaoise Lions Club to raise awareness of Global Conflict.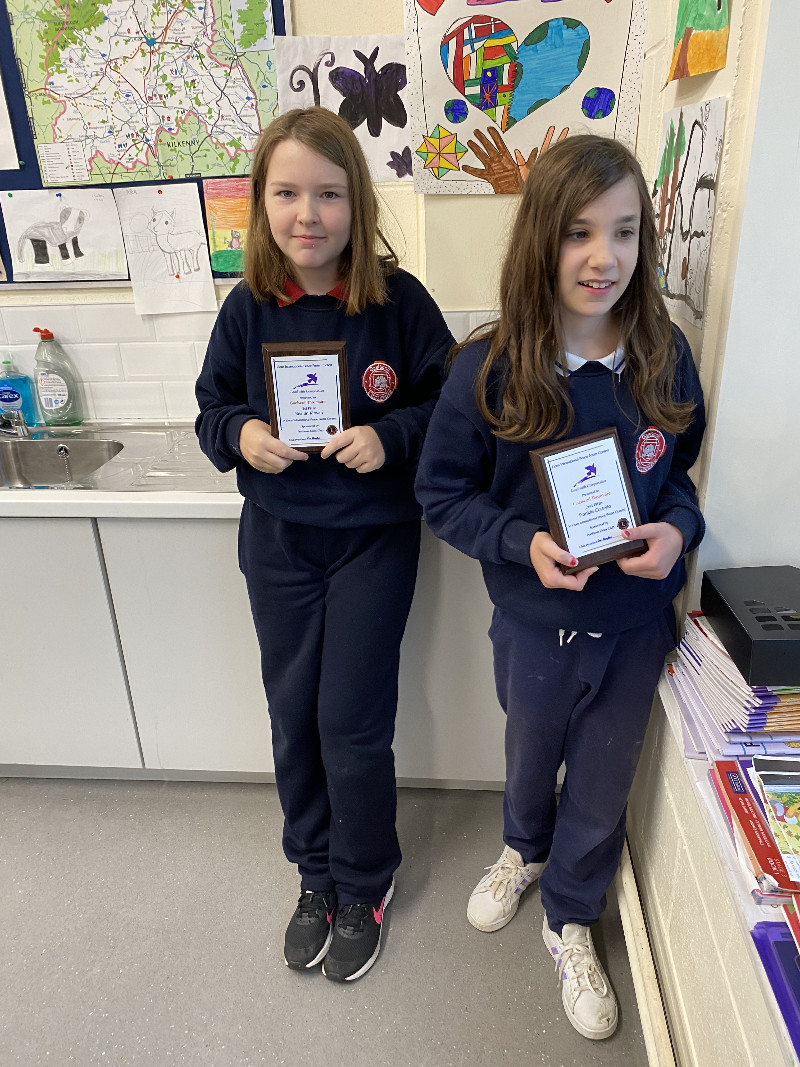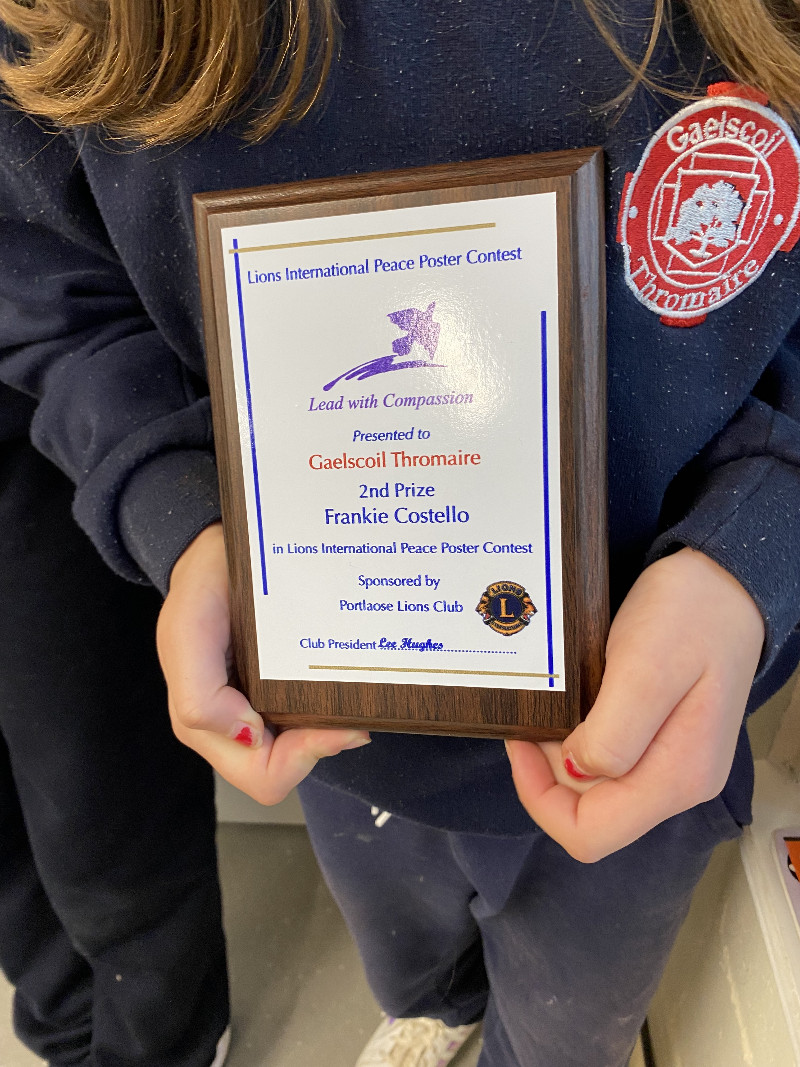 Diospóireacht Concern / Concern Debate
Ghlac Páistí range a 6 páirt i glomórtas Diospóireachta ar line de chuid Concern in aghaidh Scoil Naomh Sheosamh ó dTeampall Mór le déanaí. Rinne Clíodhna, Réaltin agus Frankie sár-iarracht argóint a dhéanamh in aghaidh rún an – dheacair agus bhaineadar an-sult as ullmhúchán agus taighde den scoth a dhéanamh chun a chruthúi go bhfuil gá ann don eitilt.
The Children of 6th Class took part in a recent online debate against St. Joseph's NS of Templemore. Cliodhna, Réaltin and Frankie made a great case against a very difficult motion and enjoyed preparing and researching to argue that flight is not a major contributor to global climate change.
Heritage Scheme for Schools
Bhí deis ag na páistí turas oidhreachta a dheanamh le Seamus Ó Dubhagain chuig Séipéal na Cromóige, Tobar Fhioumtáin agus mainistir Mocbua ar an Déardaoin 10/11/2022. B'iontach an seans é do na páistí a fheiceail cé chomh stairiúl is atá an cheantar áitiúl agus a fháil amach faoi na h-iarsmái tábhachtacha atá thart timpeall orainn.
As part of the Heritage Scheme for schools Seamas Ó Dubhagain organised a very successful trip to Cromogue Church, St. Fintan's Well and The Round Tower at Timahoe.